Fashion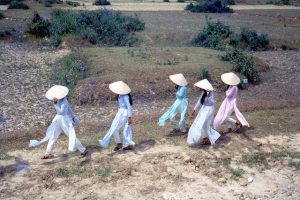 Vietnamese traditional dress for women and men is called Áo Dài. It is commonly worn by Vietnamese women. This dress elegantly and traditionally emphasizes the gentle and curvaceous shape of Vietnamese women. Teenage school girls wear white Áo Dài as school uniforms. Women wear Áo Dài for special events such as weddings, parties, and Tết or New Year. This dress is also worn as a uniform by Vietnamese government employees. Áo Dài contributes a unique look to Vietnamese fashion and culture.
Some physical attributes such as light complexion or slight chubbiness are status symbols to the Vietnamese people. If a woman has a pale complexion, she is considered beautiful. The fairness of the skin symbolizes the upper class. If a woman has dark skin, she is looked down upon. The dark skin symbolizes the poor working class. Dark skin women work in the rice field all day and generally are uneducated. The culture is harsh on women. Yet the women generally are the breadwinners of many families.
Fat also symbolizes wealth. If a family is slightly overweight, they are well fed. They have money to eat well. Light complexions and chubbiness are fashionable.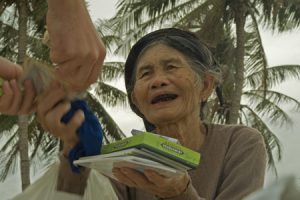 My aunt taught me an interesting Vietnamese phrase, "cái răng cái tóc là góc con người". This phrase translated roughly as "teeth and hair make a person." It is an insightful statement. A great smile with nice teeth goes a long way.
Before 1930, black teeth were considered fashionable and charming in Northern Vietnam. Men and women dyed their teeth black. The women's ebony black teeth, rosy cheeks, and ruby lips attracted many men. The black teeth tradition quickly faded away after the French influence. My grandmother died with a perfect set of black teeth.
Now, I think white and straight teeth are more popular. The long flowing black hair, the beautifully painted fingernails, and the modern Áo Dài are embraced enthusiastically by many Vietnamese women.
I hope this chapter entertained and familiarized everyone with Vietnamese culture. This chapter introduces only a small portion of the traditions, family values, foods, economics, religions, and fashions from my point of view. I am proud to have inherited such a vivacious culture. I am proud to be a Vietnamese American.
This article introduces a brief overall culture and tradition of Vietnam. The next article for my journey to America is The Year of the Earth-Monkey to learn a little bit more about me.
I would like to update this article from time to time and would love to hear your thoughts or questions regarding Vietnamese culture. Please leave your comments below.


Resources

http://healthpsych.psy.vanderbilt.edu/CAOGIO.htm
https://commons.wikimedia.org/
https://www.flickr.com/photos/