Where to begin the Nguyễn Family's epic journey to America so that we all can share our stories with families and friends? I've been starting, stopping, starting, stopping, and procrastinating my writing for at least 10 years. The Nguyễn Văn Family Reunion will serve as an excellent beginning point for the start of my journal.
The reunion began in 2009 in Pekin, Illinois. Our most current family reunion will be on July 7 and 8, 2017 at Lake Fair Fax Park in Virginia.  My first goal is to get my story started, become a catalyst and trigger many more stories by our next family reunion. One great way of harnessing the memories of our ancestors, our culture, and our way of life is to pass down our stories from one generation to the next. My primary goal is to inspire the curiosity within everyone to want to learn more about their own heritage and connect with their inner self.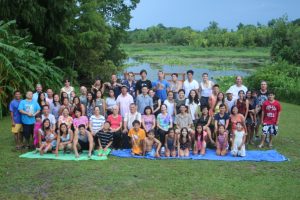 Who comes to The Nguyễn Văn Family Reunion? For the past 8 years, the siblings, grandchildren, and great grandchildren of the three Nguyễn Văn brothers: Ông Nguyễn Văn Nhã, Ông Nguyễn Văn Thuần, and Ông Nguyễn Văn Mậu.
Each family of the three brothers has its own epic adventures to share. They each left Vietnam at different time frames (from 1975 to 1990). They each encountered and overcame different obstacles throughout their journey in life. My hope is to share the collection of their stories including my own through this journal blog.
In order to understand our family, our culture, and our roots, I will share a little bit about Vietnam: the people, the culture and traditions, the geography, the food, and the religion.
This blog will serve as a main central blog that has links to individual blogs that anyone can click on to read and learn further about Vietnam and The Nguyễn Văn Family's epic journeys.