From instincts and her previous experiences in childbirth, my mom knew that her baby was due any time soon. My mom visited her parents to receive assistance in giving birth. The plan was to have me at a private hospital within walking distance of her parents' home. This would make the delivery process very convenient.
My dad took care of my sister at his parents' home while my mom drove herself on the little 50cc moped to her parent's house on Friday, May 3. My dad was hoping the baby would be a boy. My mom was clueless about the baby's gender. There were no frequent monthly checkups other than the first few visits to the doctor confirming that my mom was pregnant.
By Sunday, contractions came in waves.  My mom knew that it was time. She walked to the private hospital next door to give birth.  Explosions can be heard in the distance.  My mom calmly admitted herself to the nearby nurse.
The nurse alarmingly yelled "Are you crazy? We can't accept patients in the middle of this chaotic shooting. Everyone is leaving."  The private hospital turned her away and locked their doors.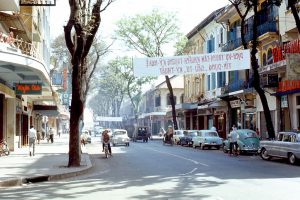 My mom huffed, puffed, and walked back home.  Luckily, her younger sister, Đóm was available. I called her Dì for aunt in Vietnamese. Dì Đóm drove my mom to the nearest public hospital on her 50cc moped.  Imagine, a pregnant woman and her sister were riding around in a 50cc moped and looking for the nearest public hospital while dodging bullets, how scary was that?  My mom rocked.
The two sisters stumbled upon a public hospital called Nhà Thương Hùng Vương in Chợ Lớn. My mom registered in the maternity ward and Dì Đóm left. Other than another pregnant woman besides my mom, the hospital was virtually empty. How lucky was that?  We got the hospital all to ourselves. A few nurses and a doctor stayed behind to man the maternity floor. Everyone else ran for shelter. I was born at 12 noon, on Sunday, May 5, 1968, at Nhà Thương Hùng Vương in Saigon.  I was the third child of seven children.