To America, We Go
When we first arrived in Malaysia, all the adults were interviewed by the UNHCR and then by the Americans. Chú Thưởng was also interviewed. He didn't mention his brother living in France for fear that he may have to go to France instead of America with my family.
While living in Pulau Bi Dong, we waited patiently for the sponsorship paperwork. Our only source of news was an intercom set up by the Malaysian officers. Frequently, the officials announced news such as sponsored families and any island-related activities. All the refugees anxiously wait for their names to be announced. Every day, Chú Thưởng kept his ears wide open to listen for our names.
Finally, one day in mid-November, our names were announced. Chú Thưởng jumped with joy. His dream of coming to America had finally come true. His freedom was granted. He could do whatever he wanted. Free from fear. There was no more harassment from the government officials. He can now live as a free man in a new country.
By the beginning of December, we were escorted to Kuala Lumpur, the capital of Malaysia. We stayed there for about a week to complete the paperwork and had health checks for Tuberculosis (TB). My dad's result was positive for TB. He had to stay behind in Malaysia for another month to be treated.
We first took an overnight bus ride from Malaysia to Singapore's airport. Chú Thưởng remembered the airport as being very pretty and clean. Our flight stopped in Hong Kong and then Tokyo. From Tokyo, we flew to Seattle and then Chicago Ohare. We transferred to a small plane and flew to Peoria, Illinois. Once again Chú Thưởng was filled with mixed emotions mostly of interest and curiosity. Everything he saw so far was beautiful. He anticipated that America was going to be like heaven. That was what everyone told him anyhow. The Americans that he met on the plane rides so far were humongous.
After arriving in Peoria, reality struck. We reunited with our aunts, uncles, and cousins. It was supposed to be the happiest moment but at the same time, Chú Thưởng felt lonely. His immediate family was not there. The excitement and adventure feelings slowly dwindled away. Sadness and the feeling of emptiness without his immediate family were building.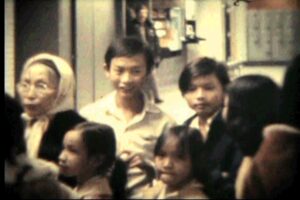 When we finally arrived at my grandparents' home, Chú Thưởng saw my grandfather and he was reminded of his own father. My grandfather suffered the same stroke Chú Thưởng's father had. My grandfather lay on his bed paralyzed. His left arm curled up to his side. My grandfather was in the same condition as Chú Thưởng's father who left six months ago. That was it. The dam broke loose. He burst into tears. All the memories from home came rushing back into the present. That was the moment when Chú Thưởng was reminded that he may never see his immediate family again.