I was here in America because of circumstances. If Vietnam was a peaceful place, the thought of leaving would never come up in a million years. My family was not any different from any other family. When sink or swim was put to the test, we rose to the occasion. That was the initiation of our character development. Our family had one passion and it was the passion for freedom. Freedom created tenacity in each one of us. The freedom allowed us the opportunity to be who we wanted to be.
We had choices. We can stay, take no risk, and be dependent on others for our successes or we can leave, take risks, and be dependent on ourselves that we can build a better life somewhere else. War was a circumstance that no one ever wished to endure. At the same time, it was an incident that pushed us in a direction that would best fit our family. Because of freedom and the instinct of survival, my family was determined to succeed whether our decision was considered to be a good choice or a bad choice.
Because of my experiences, I learned a lot about myself. When I was most comfortable, I lived primarily to exist. When I was most challenged, I existed to live and I lived life to the fullest. My journey to America was a great example of me living life to the fullest. I enjoyed every moment of it.
We landed at Peoria Illinois Airport in mid-December 1978. My family was not prepared for the winter weather. My brothers were in shorts and the rest of my family were in short sleeves and long pants. I remembered wearing a thin yellow sweater. Coming from a tropical climate and being exposed to below 30 degrees F weather with snow deep to my knees was a weird experience. We were greeted by our grandparents, aunts, and uncles who came to the US in 1975. They were prepared with winter coats for our arrival. On our drive to our grandparent's home, everyone was in silence. We were mesmerized by the whiteness of our surroundings sparkling against the twinkling light of the night starry sky.
Because of the dramatic weather change, I was sick for several days.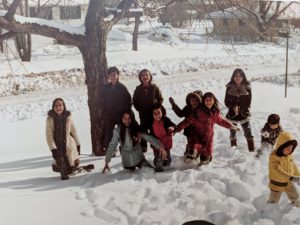 In Vietnam as a kid, I was very easily infected with lice by friends from school. Yes, unfortunately, I learned later that I was the one child who passed the inherited lice to my siblings and all my family members on the island. First and foremost when we arrived in America, all the children had to be de-lice. Our old clothes were either thrown away or maybe burned.
I remembered being de-lice a few times before in Vietnam by Me Duc so I was ready.
I recalled a liquid that was poured over my head that smelled like gasoline. My scalp felt cool. There was a wiggling sensation as if a parade of ants running chaotically on my head and in between my hair strands. Here in America, the liquid smelled differently. It was almost like the smell of hair permanent. My mom covered my head with a shower cap. The same cool feeling reminded me of my Vietnamese de-lice experiences.
I was exposed to chickenpox. That was not fun. I had no earthly idea what it was. All I wanted to do was to scratch myself all over my body to relieve the itchy feeling. My mom soaked me in the tub with some kind of ointment.
Our first Christmas in Pekin, Illinois was fun and interesting. We never celebrated Christmas before. The Christmas tree and lights concept was also foreign. Santa Claus, who was that? My parents led a Buddhist lifestyle so we never celebrated Christmas until we came to America. There were multicolored boxes with bows under the tree and they were for us. I was not even aware that there was a surprise gift inside the box. I was so thankful for receiving such beautiful boxes.
Remember a movie called "Splash"? The mermaid was played by Darryl Hannah. In one of the scenes, the mermaid received a gift from her love. It was a gift in a wrapped box. She examined the box and hugged it. Well, that was exactly how I felt. I thought the box was a gift. If you haven't seen the movie Splash, it was released on March 9, 1984. The stars were Tom Hanks and Darryl Hannah. It was worth seeing. I enjoyed it.
We were given many gifts such as clothes and shoes which were definitely appreciated. From that point on, it dawned on me that I will not be returning to Vietnam any time soon.
After one long month without my dad, my dad united with us in January 1979. We were relieved that he came home.
The Seguin Elementary School was great. All the teachers were very helpful. All six of the children met with a language teacher for ½ hour each day after lunch in school to learn additional English. I remembered having to be in front of an assembly for everyone to meet a new Vietnamese family in town. We were even on the Pekin Gazette Newspaper. In 1979, there were only four to five Asian Vietnamese families living in Seguin. Most of those families were my aunt, uncles, and cousins.
Our first day of school was also interesting. Whatever English Hanh (my older sister) and I learned on the island 5 months ago was long gone. We had to pick up English quickly. We also missed half a year of school. My parents feared that we would have a hard time learning a new language. They pulled all six of us two years back. After the summer of 1978, I was going into fifth grade. My parents registered me as a third grader. I was small enough to fit in as a third grader. Our first words were "May I go to the bathroom?" and "thank you".
We were all shy and shell-shocked. Like many other children in a new and strange environment, my brothers had small bathroom incidents during class. I remembered on the first day of school, by lunchtime, I met up with my siblings in the cafeteria and started to walk home. The teachers had to stop us and turned us around. In Vietnam, we had only a half-day of school so we thought the class was over by lunchtime. Physical Education, art, music, and extra curriculum were new to us. The Vietnamese school curriculum was different.
They focused on reading, writing, history, and science. There was no extra-curriculum provided.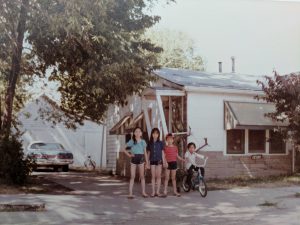 By summer 1979, we moved to our very own house. It was a small house with two bedrooms and 1 bath. It was owned by Mr. Wilson. The house was small but it was ours. All 8 of us, 5 girls and 3 boys, shared one bathroom. Wow, we all managed. Yes, there were squabbles here and there but we learned to wait for our turns. The early risers get the first dip of the bathroom. While the sleepy heads waited for their turns. "If you snooze you lose." That was our family motto. The family room was transformed into my parents' bedroom. My two brothers shared a small bedroom. The four girls shared the largest bedroom. The girl's door was a 1970 bead curtain. We had a huge detached 2 car garage that looked like a barn and a great apple tree in the back yard. The apples were small and tart. We had many shares of the munchy apples and loved every bit of it.
My parents bought a used blue Chevrolet, our very first car. The car and the house-made a great picture to send home to Vietnam. My dad wrote letters and sent pictures to his family in Vietnam. His mom saw a picture of our so-called new car and our little house. She thought we must be in heaven.
In 1979, Vietnam was going through a rough time. The citizens were in a poor state. My paternal grandmother asked my dad to send home money to help them with their lives. My parents barely made ends meet at the time. They saved furiously a few hundred dollars over a few months. They sent home some money but it was not enough. Vietnam was in a sad state. My parents unfortunately could not help my paternal grandmother as much as she asked. At that time, they did not understand the cost of living in America and they did not understand that having a house and a car was a necessity. To Vietnamese, having a house and a car was a luxury. Vietnam did not have a system such as a mortgage or even a layaway plan. Everything was bought or sold in cash in Vietnamese culture. If we could afford a house and a car then we could afford to send more money home, right?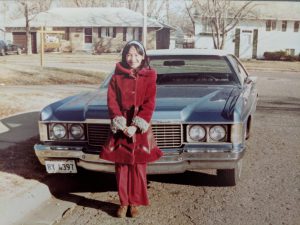 In Vietnam, my mom was the right-hand person for her boss. She brought home the bacon. My mom worked her way up from being a secretary to the factory manager in accounting within a year.
They were the international manufacturer of fabric and thread. We had a live-in nanny to take care of all the children while my parents were working. My dad was the tax assessor. He brought home normal wages, on the average of $10/month.
In America, my dad's first job was as a dishwasher and my mom was a cook. My parents swallowed their pride and did what they could at the time to feed, clothe, and shelter their children. They were both well-educated and came from an educated family in Vietnam. Coming to America, they both barely made minimum wage of under $2.5/hour and were ridiculed for being Asians. Both salaries didn't bring in enough to feed a family of 8. We applied for food stamps. I saw my father paid with food stamps before but I didn't understand or related to our financial situation. The food stamps helped our family tremendously.
To me, we were living a great life. Since there were so many girls and we were one size up from each other so it was totally expected to get passed me down clothes. We shared many things such as toys and clothes. A few days before Christmas in our new home, we found a large fruit basket outside our door. We thought it was for someone else at first. There was no card or names attached. However, there was no one around so we accepted the gift heartily. It may come from the church that welcomed us to the neighborhood. It was a wonderful feeling of receiving such a wonderful gift that someone out there was thinking of us. We were touched and felt very welcomed and accepted into the community.
As I am writing this, my vision became blurry and my eyes filled with tears. Sniff, sniff, sniff. Why are there tears rolling down my cheeks uncontrollably? Sniff, sniff, sniff. I was touched by the kindness of the giver who was so kind and gave us in our time of need. The basket came in the nick of time. I can't fathom how blessed we were.
As a child, I did not really know and understood our family's financial situation. All I know was if I asked for something extra like candy from the store, my dad would say we don't have enough money for that. I did not have a concept or value for money. Looking back now, that was the time when we needed help most and the fruit basket really made a profound impact on my memory. Just like when Chu Thuong (my cousin) received a spoonful of the fruits cocktails from a stranger. I never found out exactly where that fruit basket came from. I wished I had pursued it further. Thank you, whoever you were.
A generous couple, Mr. & Mrs. Viola, took us to church every Sunday for Bible school to teach us Christianity. Although we went to church, my parents made a request that we were not to be baptized until we turn 18 when we can freely choose which religion we would like to follow.
It took me almost a year or so before I slowly caught on with the English listening skill of translating English into Vietnamese. My aunt, Di Ca, babysat us every night on the weekdays while our parents were working the night shift at the Holiday Inn. I remembered any time we watched a movie I would ask her to translate. The actors were speaking too fast for me to catch up. "What did they say? What did they say?" I asked impatiently wanting to know everything about what the characters said. Di Ca was very patient with me. She translated every single time I asked. My siblings were not so patient. They hushed me every time I asked. "Shut up and just watch." They yelled.
Watching was not enough for me. I wanted to know more. I wanted to know what they said. I was very curious and excited to learn. Every time Di Ca read a new book, I would ask her to tell it to me. She liked scary stories written by Stephen King. I loved it, too. It was my highlight of the evening.
Di Ca married a gentleman named Richard Wilson. We knew Richard Wilson before Di Ca married him. We called him Mr. Wilson. Mr. Wilson helped my grandparents quite a bit when they first came to America in 1975. The house we lived in was owned by Mr. Wilson. Mr. Wilson helped my grandparents buy their house. He helped them fix lots of things around the house. He was a handy dandy fix-it person. Any mechanical issues we encountered, we called Mr. Wilson for help. Mr. Wilson was always at our house. Finally, one fine day, he asked my grandfather for Di Ca's hand in marriage.
He was the first American engaged in our family. It took a while for my grandfather to warm up to the idea. Di Ca was my grandfather's youngest and precious daughter. Mr. Wilson was very kind to our family and was loving to all the grandchildren, nephews, nieces, and cousins. My grandfather finally gave his blessing to Mr. Wilson. In July 1979, we promoted Mr. Wilson to Uncle Wilson.
On the weekdays, Di Ca was spending the evening with us and helped us with our homework. On the weekend, both Uncle and Di Ca spent even more time with us. Uncle was into gadgets and technology. He brought over the Atari game, Commodore 64. It was a great new gadget back then. We took turns to play space invader and asteroids. I had long talks pondering about life and our existence with Uncle and whoever wanted to talk outside with us under the stars almost every weekend. Di Ca and Uncle Wilson never seemed to be bored with my conversations with them. They touched our lives in so many ways. Thank you, Di Ca and Uncle.
During the summer, they bought a van and took us on a camping trip to Great America in Chicago. We went to Six Flags in St. Louis. We had lots of wonderful memories of spending with Uncle Wilson and Di Ca. I treasured every moment to be with them on all of our fun trips and adventures. They made a huge impression and contribution to my life.
We grew up watching the Brady Bunch, I dream of Jeanie, Bewitched, and Saturday morning cartoons. My dad loved to watch wrestling. I was scared of watching horror movies but loved them at the same time. I would always be watching a horror movie with a hand covering one eye. Thinking perhaps with one eye covered, it was half scary. I believed the kids' psychology on the Brady Bunch was true. We tried it on my brother and it didn't work. All the kids ganged up and ignored my brother when he was bad hoping that he would learn his lesson. However, the lesson backed fired on us. My brother didn't speak to everyone for a whole year. I learned that I should not believe everything I see on TV.
Yes, my siblings fought constantly over every little thing. However, we had many fun times together. We had only one TV. We often fight to watch our favorite TV shows. It would be the boys vs. the girls. I would be the troublemaker at the same time and be a peacemaker to mend what I broke.
After three years in Seguin, my mom decided that we should move to Texas. The Navy in-law uncle, Chu Te, and our aunt, Di Duoc, who lived in Texas told us there were better job opportunities and a warmer climate in Texas. We visited Texas in the summer of July 1982. By now, the blue Chevrolet died on us. My dad upgraded to a yellow station wagon with a bench and back door to the back. We thought that the station wagon was the coolest car. We all fit comfortably.
Driving on the freeway was quite an experience for our family. My dad had been driving on the local roads for three years by now and had never driven on the freeway. He mapped out the whole trip from start to finish. It was a big deal for my dad. I imagined it was a scary yet adventurous feeling for my dad. I thought it was exciting and wanted to stay awake the whole way. My dad assigned Hanh and me to be the navigators. Several times we took the exit by mistake. My dad often complained, "I can't believe how big the exit was. It was as big as the Freeway." We quickly learned that if there was an exit to the freeway, there was an entrance back to the freeway.
It took us several days with many little bathrooms and gas stops every two hours from Pekin, Illinois to Seguin, Texas. Both my parents scoped out Seguin with my aunt and uncle. The weather was agreeable. My aunt and uncle generously offered us a place in their home for our transition to Texas before we find our own home.
After coming home to Pekin, my mom was determined to move to Texas. Both parents agreed. After 4 weeks later, we packed all of our belongings and moved down to Seguin, Texas. My dad measured everything including all the kids. He checked out the mileage, the weight, and the car. Anything that was too heavy such as the furniture was left behind.
It was hard to say goodbye to our grandparents, aunts, uncles, and the new friends we made. Once again our family left to seek better opportunities.
Interested to read more about my journey? Stay tuned for next week's blog. You can also review my older blogs at https://haroda.com/category/Vietnam. Any questions or thoughts, please leave them below as comments.