He's Not Chinese
The following week, my dad wrote a note for my godmother.  He handed it to her in the back of the house.  Mẹ Ðức read it in the bathroom-out house.  The note read "We will be taking Ha today."  She looked around for any onlookers and immediately burned the note. Mẹ Ðức asked me to pack like any other weekend to visit my family.  She did not inform me that it was the weekend I will be leaving her forever.  I did not bring my special bag with me.
My dad told me much later when I was older that he took a huge risk in confiding in my godmother about our escape plan to America. During that uneasy time, everyone was mandatory to report if there were any suspicious activities even among family members. He did not really know who to trust.  He didn't know if my godmother was willing to let me go or blow a whistle on all of us. However, he felt obliged to tell her the truth. He knew that she loved me and took great care of me.
It was the summer of 1978. I was awakened along with my siblings at 4 or 5 am.  "Everyone up!" my mom whispered.  "We are going to giổ at grandmother's house.  Hurry up get up.  We have to go."  Giổ is a Vietnamese traditional celebration of the dead.
I was half asleep and half awake.  Yeah, I am going home, I thought.  I assumed that it was my paternal grandmother's house nearby Mẹ Ðức's house.  We were lined up in the alley outside the house.  I just followed along with my siblings. It was dark outside.  Where was the sun?  I am sleepy.  I didn't question why it was so early.  There were two more boys who joined us.  The boys were my cousins.
We walked to a place called Ðường Minh Phụng.  There we met up additional ten more people.  There was a pickup truck with a camper on the back.  We all climbed into the back of the camper.  The truck took us to a place called Long Bình.  It took us 30 minutes to get there.  By then, I thought something was up.  Where were we going?  I was scared. The streets did not look familiar.  In Long Bình, we waited for several hours.  Approximately 520 were transported by Việt Cộng military vehicles to Vũng Tàu Beach.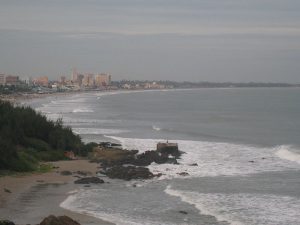 Once we were at the beach, it dawned on me that we were actually leaving to go to America.  Now what? Wow, is that what a beach looks like?  I saw the ocean and the beach for the first time.
Now, what about my escape plan?  Not yet, too many people.  What do I do?  I didn't know where I was.  I was lost and afraid.  There were so many people.  I don't want to go but I was too afraid to speak up or even make a sound.  I was too afraid to ask my parents questions.  No one asked any questions.  We were just following and doing what we were told.
There were two fishing ships waiting for us outside the pier.  Small rowboats came onto the sand and loaded up the waiting passengers.  It was our turn to get on to the rowboat.  Suddenly, my dad was singled out and was grabbed by the arms by one of the Việt Cộng drivers. Their eyes met.  There were no words exchanged.  The only thing that rolled through my mom's mind was "Oh no, they could tell that he is Vietnamese.  He had a distinct look of a Northern Vietnamese." Out of nowhere, a Chinese man interrupted the silence.  He was my mom's friend.
The friend said, "He is Chinese and he is with us."
My mom quickly pulled out any leftover Vietnamese money that she had from her purse.  She handed it all to the soldier and the drivers of the boat.  She decided that where we were going, we will not need Vietnamese money.
My parents were holding our breath for the soldier's reaction.  He finally nodded and allowed us to board the boat.  There was a wave of relief in my parent's eyes.  I didn't know any better.  I didn't know that we were almost caught and the chance of us getting our normal life back will almost be impossible.  We would be on the Việt Cộng's radar for any future escapes.  There was no turning back to the simple life that I have known.  At that moment in my head was just "how can I get away?  I am too scared.  My plan failed.  I am letting Me Mẹ Ðức down.  There is no turning around now."